Water is the most powerful of the elements.
Running deep with swift power beneath the surface of our streets,
carrying a tremendous, untapped ability to generate electricity…Until now!
We are the future of electrical energy production.
T.I.G.S. Power Technology
Intensely powerful untapped energy…unseen and invisible to most.
MDL Enterprises, a pioneer in flow through generator technology, is changing the conversation and paradigm of practical energy creation using its Patented T.I.G.S. (Torqueless Iron-free Generator Stator) Power Technology. To help promote, develop, and commercialize this technology, MDL Enterprises has formed Aqua Dynamic Power Solutions LLC, the exclusive licensee of T.I.G.S. Power Technology for hydro-powered renewable energy resources.
T.I.G.S. Power Technology has no iron in its core, which allows for a virtually resistance-free startup. Due to the changes in the stator, our systems now have a "flow-through" design. We have increased the size of the rotor (impeller) to allow fluids (water, air, etc.) to flow through the middle of the rotor and it allows those fluids to be used as the motive force for the rotation of the rotor.
Inline Water Power Production
Our water-driven electrical generation model is the only INLINE power production device in the world that does not use a shaft to drive an external generator and lose power and efficiency. This is a revolutionary advancement over "conventional" power generation technology. There are ZERO shafts penetrating any piping, thus also eliminating the potential for leaks or any contamination being introduced into the water supply.
T.I.G.S. Power Technology has the ability to produce usable electrical power in places and conditions never before deemed possible with current electric generators; the water system and water mains. This is a clean, renewable energy power source using a resource that all modern cities have and up until now, the ability to utilize the water system to generate continuous electrical power has not been realized due to impracticalities involved with this type of energy production.
Aqua Dynamic Power Solutions LLC has dramatically changed that.
The T.I.G.S. Power Technology model was placed into an 8-inch water line test fixture,  that we have running at approximately 1/8 the flow velocity of an actual city water line, to generate electrical power and demonstrate proof of concept with this radical technology breakthrough. This allows us to demonstrate the viability of generating electricity 24/7, 365 days a year by using existing city water lines to generate electricity in a manner no one else has been able to accomplish. The unique flow-through design allows us to place numerous devices in a series or parallel configuration with minimal impact on power production.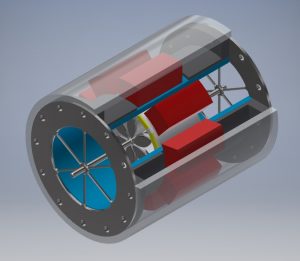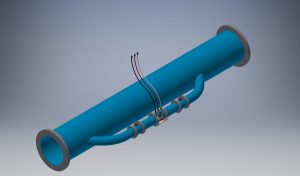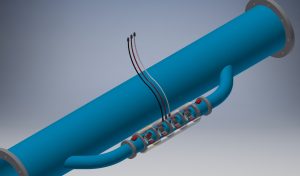 Multiple T.I.G.S. Power Technology units can be placed in a system due to their extremely small footprint and size, providing a much needed Renewable Energy resource for any community.
Our Series-Parallel Array Technology innovation could potentially be an astonishing Renewable Energy resource used as a supplement to building and facility power demands.
With cities converting to new, more efficient LED lighting, this makes the production of power using T.I.G.S. Power Technology in the untapped resource of the water system easier, more convenient, and makes great economic sense. Municipalities that own their water infrastructure, would own their own power production systems and could eventually become a utility provider for their citizens. The cost savings that can be afforded by owning the equipment and reducing high-cost electricity payments to utility providers for streetlights and other infrastructure should more than quickly pay for itself.
The FUTURE TECH that we envision is the ability to inductively charge electric vehicles when they are stopped or waiting at places like stoplights or city-owned facilities. The vehicles could be fitted with unique RFID tags and a meter, placed at the stoplight or other charging location, would read the vehicle, commence charging, and record the electricity used. The city could then charge the owner for the power used, much like toll roads and toll tags do currently.
Car manufacturers like Tesla, GM, BMW, and others are focusing more on electric vehicles every day. With our technology and FUTURE TECH advancements, we can lead the world in providing practical solutions to remedy range issues that most electric vehicles experience. This would allow electric vehicles to have a greater impact in the world and on its climate and would rapidly promote a broader range of use and acceptance.
Our system is very scalable and can be made to fit almost any size water line in use today. It can be placed in pumped or gravity fed systems and will constantly produce power.
By using hydraulic forces and new designs, we can manipulate the system to produce power with no obstructions to the flow of water in any system. This creates a much simpler means of capturing the power of water to create usable electrical power.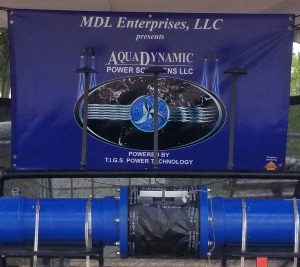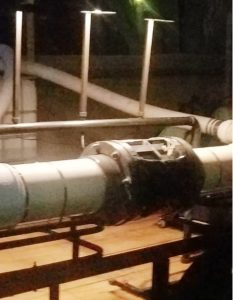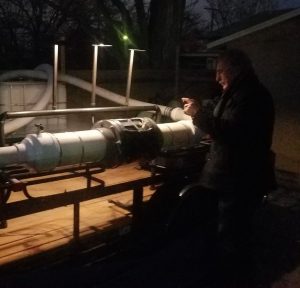 Night testing of T.I.G.S. Power Technology test device using three  3W 230 lumens LED lights.
For the working model, we made the stator (power generating portion) smaller so that we may show how the magnetic field rotates with the flow of the water stream. In real-world applications, the stator would be much larger as we would not need to remove a portion of it for demonstration purposes.
The slight flicker is due to the frequency drop caused by the lower flow rate of the water through the model due to expansion from a 4 inch supply line to an 8-inch line where the model is located. This would not present any issue in our dogleg off of a city water main.
We have created a conceptual architectural model of the T.I.G.S. Power Technology generating system. This concept represents just one method of installation and power distribution for powering streetlights for public safety and security.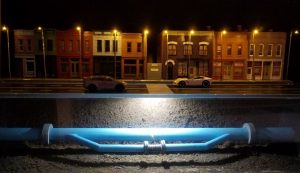 Our future endeavors and goals are to be able to provide power under the top surface of the roadway to inductively charge electric vehicles as they pass over the charging loop. This is a perfect marriage of T.I.G.S. Power Technology and the Electric Vehicle Industry. The T.I.G.S. Power Technology system would constantly be providing power to the charging loop from the water flowing through the water mains.
According to an article in Green Technology from 2009 (https://www.greentechmedia.com/articles/read/micro-hydro-a-hidden-source-of-urban-megawatts-5878), inline water power generation has a potential market of $30 Billion worldwide. That number has presumably only gone up thus making water utilities an untapped resource and T.I.G.S. Power Technology a revenue Goliath.
Unlimited Possibilities and Opportunities
The areas of application for T.I.G.S. Power Technology are abundant and virtually limitless…micro-grid energy enhancements using renewable resources, Earth-friendly utility-grade power production by reducing fossil fuel consumption, electric vehicle mileage improvement, remote camps and hunting outposts for off-grid applications, city lighting supplementation for disaster response or everyday use, and military and government deployment in places where fuel is scarce or hard to acquire. These are just the tip of the iceberg of the uses for this new technology.
The world is consuming more energy than ever, with only limited resources available to keep up. Wouldn't a better way to create that energy is the most beneficial way to use and save those resources? Daily, more than 1 billion people go without electricity for even the most basic of needs, the INNOVATION BREAKTHROUGH that the T.I.G.S. Power Technology provides can be the solution to those people in need.